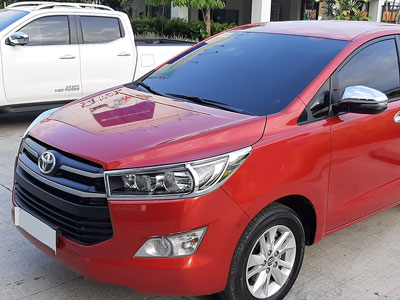 Toyota Innova
The Toyota Innova is an MPV, a sub-category of the SUV, based on the IMV platform, shared with the Toyota Fortuner and Toyota Hilux. Sporting 7 seats and a softer suspension than its IMV cousins, it has become popular with families in Asia. It comes with either a turbo diesel inline four or a gasoline inline four engine; 2.8L and 2.4L for the diesel variants, 2.0 ad 2.7 for the gasoline variants. Transmission may be a 6-speed automatic, or a 5-speed manual transmission. Despite being based on the same platform as the Fortuner and Hilux, it is not designed as an offroader; it doesn't come with 4-wheel-drive or a limited slip differential. It being designed by Toyota, the Innova is very reliable whether it is used as a family mover, a daily commuter, even a rental or a cab. It is definitely designed towards families and is the best of its class here in the Philippines.
The Innova is only a little bit smaller than the Toyota Fortuner, a mid-size SUV, thus there is plenty of space for the occupants. The Innova is readily available in a lot car rental companies as it is a very popular vehicle. There is plenty of leg room for the occupants of this vehicle. With the front seats on a reasonable position, the second row has plenty of room, even more room than a lot of SUVs, even when the second rows seats are moved all the way forward to give room to the 3rd row passengers. The third row is a little small for adults over 5ft, but moving the 2nd row forward gives the 3rd a generous amount of leg room. Head room great for all 3 rows, and has plenty in terms of width. The Innova is also comfortable. As stated before, it has a softer suspension than the Fortuner and a lot of other SUVs. The newer models have double wishbone type suspension in front, allowing more movement of the wheels, and less on the passengers. The Innova offers two vents for the second row and another two vents for the third row, insuring that all the occupants are comfortable with the temperature. Some models come with captain seats, which remove a seat in exchange for a pair of more prestigious seats. The third row can seat three people comfortably and leaves plenty of space for luggage. There is an option to fold the 3rd row making it a 5-seater with a large cargo area, and folding the 2nd row makes way for even more cargo. Renting a car with a driver would be a great way to enjoy the Innova.
Toyota innova is the best MPV/AUV vehicle in the Philippines. With the Innova, you are provided with generous space while having the luxury of comfort. Toyota innova has enough luggage space to accommodate your family's luggages and built tough to give you the right confidence while maintains its soft and comfortable ride.
Rent-A-car
Toyota innova is a multipurpose, versatile vehicle and is one of the favorites in car rental (rent-a-car) companies business. Rent-a-car companies like Real Wheels Davao choose Toyota Innova due to its reliabiliy, comfort and space that could serve well their guests.
Innova for Rent
Toyota innova is offered for selfDrive and with driver option by the car rental company. SelfDrive rental is limited within Davao City areas only. Adjacent cities are considered for long term rentals. With driver option rental is offered in convenient and flexible options. Fuel and Driver's meals/accommodation is flexible and can be discussed openly.